G-FAN Fanzine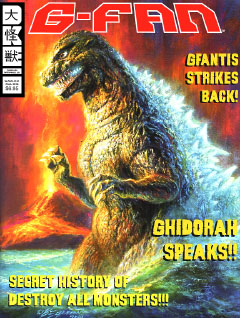 G-FAN is a quarterly fanzine (fan magazine) devoted to coverage of Godzilla and other Japanese monsters. Issues range in size from 68 to 116 pages, and typically contain movie reviews and retrospectives, new and collectible product information, news of conventions, coverage of exhibitions and events in both Japan and North America, interviews with personalities involved in the production of kaiju eiga (Japanese monster movies), fan art, fan fiction, and more. G-FAN has reached issue #141 since publishing began in 1993, making it one of the most successful fanzines in the history of the world!
G-FAN does not typically pay for submissions, but authors and artists may benefit from the exposure of simply having their work published. Contributors of articles will receive one or two complimentary issues, and extra copies of the issue featuring their work are available on request (if still in stock).
G-FAN is available at comic and specialty stores supplied by Diamond Comic Distributors, and by subscription. Subscription issues come in a sturdy envelope with no label stuck to the cover of the magazine.