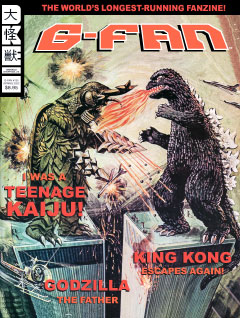 G-FAN Fanzine Latest Issue
Issue #135 — Spring 2022, 84 Pages
Namings honor Toho kaiju
Frye, Oka join G-FEST
Gigan anniversary spawns new items
Amazing Hedorah short debuts on YouTube
Shin Japan Heroes Universe created
Kaiju series coming to Apple TV+
Kaiju Cinema's Feminist Statement
Monster Kids Kaiju Style
King Kong's Great Escape
Godzilla and Fatherhood — The Family Structure
Godzilla vs. Hedorah (2021)
Secrets of the Red Tide — Singular Point's 'Koshira' Triptych
Godzilla Fan in Japan
Snake Girl
Kaiju Tails: When the Mountains Move
What to Do With the Dead Kaiju?
The Champion Festival Versions: King Kong no Gyakushu
Ape vs. Monster
G-FAN Kaiju Scrapbook
Godzilla Movie Poster Analysis: Terror of Mechagodzilla
In Praise of the Imperial Godzilla
A Tale of Two Soundtracks
G-TOUR 4 Details
All Monster Toys Attack!
Ye Olde G-FAN Shoppe
Kronos Rising
G-FAN's Kaiju Bookshelf
Isle of Dogs: Unexpected Tokusatsu
Bonus 12-page G-FAN Junior insert magazine
and more!
Available in comic and specialty stores, or by subscription.