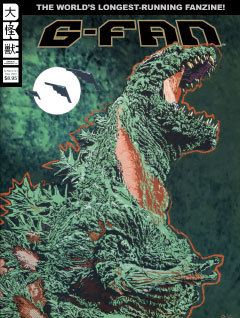 G-FAN Fanzine Latest Issue
Issue #141 — Fall 2023, 92 Pages
G-FEST Continues on Growth Trajectory
The Models of G-FEST
Where Creature Episodes Roam: Gamera Rebirth
Yuji Kaida: Painter of Kaiju
"Lost" Kaiju Dino-Monstrs — A Planet of Dinosaurs Retrospective
Other "Godzillas"
25 Years and Rising
This is the Monster's Paradise — Why Toho Should Revive Godzilland
Requiem: Son of Kong
Cyborg Kaiju Krekken — Part 2
Small Issues
Ape vs. Mecha Ape
Discovering Destroy All Monsters!
Monsters Come to Life at Universal Studios
Where Creature Episodes Roam: Skull Island
Pee-wee Herman: A Monster Legacy
Giving Thanks For Monster Memories
The Mystery Park in Godzilla vs. Megalon
2025: Armageddon
G-FAN's Kaiju Bookshelf
All Monster Toys Attack!
and more!
Available in comic and specialty stores, or by subscription.
NOTE:
Due to a printing error, some images and their captions are missing from pages 17 and 49 of G-FAN #141. The article text was not affected. Rather than scrap the entire print run, pdfs of the affected pages are available to download:
Page 17 pdf
,
Page 49 pdf
. Apologies for the inconvenience. — J.D. Lees