Welcome to the World of Giant Monsters
Welcome to G-FAN.com, brought to you by Daikaiju Enterprises (DKE), publisher of G-FAN fanzine, the world's only journal devoted to giant movie monsters, especially those hailing from Japan. DKE also hosts the annual convention known as G-FEST, attracting over 2500 monster fans for a weekend celebration of the genre. In 2004, DKE organized G-TOUR, a voyage to Japan, in celebration of Godzilla's fiftieth anniversary, and returned in 2011 for G-TOUR II, and 2015 for G-TOUR III. If you love Godzilla and other giant monsters from Japan, please explore G-FAN.com, you'll find much of interest!
J.D. Lees — Editor and Publisher, G-FAN Fanzine
LATEST G-FAN NEWS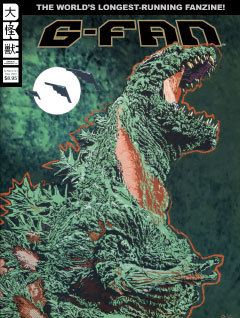 G-FAN issue #141 printing error
Due to a printing error, some images and their captions are missing from pages 17 and 49 of G-FAN #141. The article text was not affected. Rather than scrap the entire print run, pdfs of the affected pages are available to download:
Page 17 pdf, Page 49 pdf. Apologies for the inconvenience. — J.D. Lees
G-FEST XXIX hotel reservations for 2024
We are pleased to announce that G-FEST will be returning to the Hyatt Regency O'Hare Chicago in 2024, from July 12th–14th. Rooms are now available for G-FEST attendees at special rates: $135.00 / $155.00 per night. Discounted overnight self parking is available for $20.00 per night. Click here to make an online reservation with the G-FEST rate.